Meet Our McFarland Community: Nick – Preconstruction Manager | Disc Golf Pro & True Charlottean
---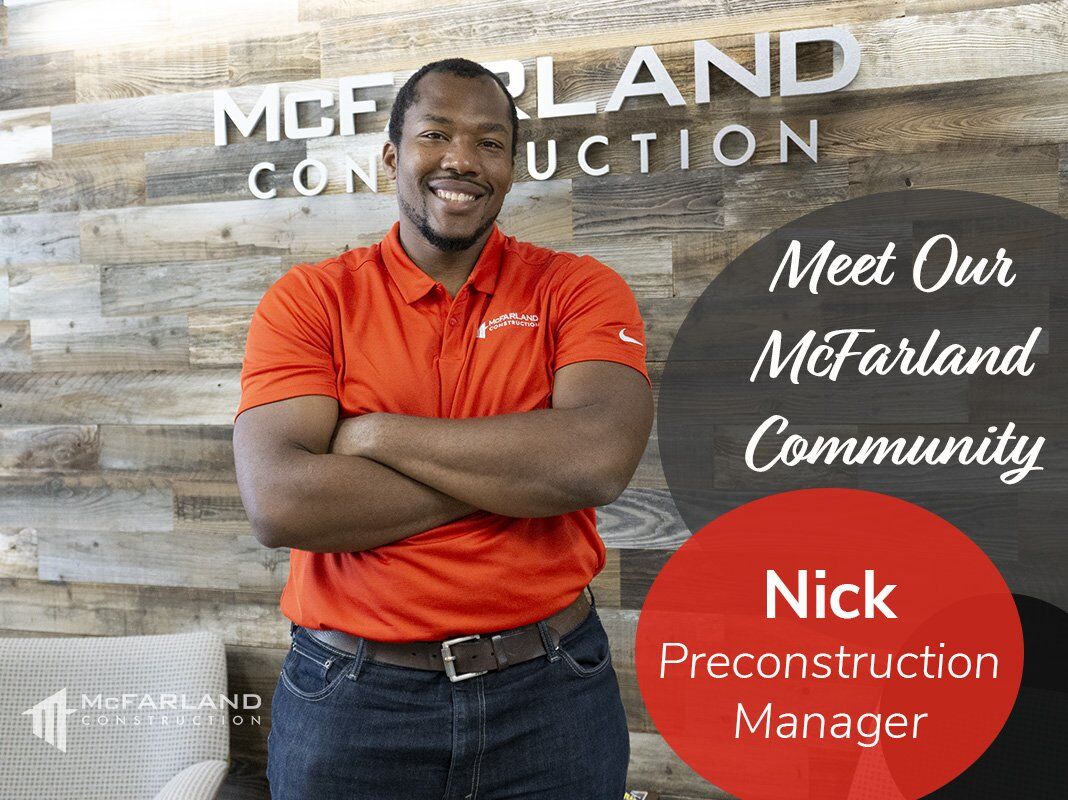 ---
At McFarland Construction, collaboration is one of our core values. We know that collaboration begins internally by building the right team and workplace culture. Our employees are the building blocks and lucky for us, they all have a great story to tell. Each month, we'll introduce you to someone from our McFarland Community. This month we're highlighting Nick, our Preconstruction Manager. He enjoys Preconstruction because he's able to make an impression on the front end of each project and then get in the field and watch the project come to fruition. Nick is also have an avid disc golfer and hopefully will be able to teach more of the McFarland team his disc golf skills soon. Fun fact, he is an Eagle Scout – so if you are ever lost in the woods, he's a good guy to have around. Learn more about Nick from our latest interview with him:
How long have you been in the construction industry?
I've been in the industry for Eight years.
Why did you choose construction for your career path?
I chose construction because I wanted to be able to utilize the skills that I learned from double majoring in Architecture and Civil Engineering but didn't want to be in a consistent office environment. I wanted to have the flexibility to be able to spend more time in the field and watch projects come to fruition and see the whole project turnkey.
What do you enjoy most about being on the Preconstruction side?
Getting the opportunity to put our stamp on the project. In Precon, it's one of the first opportunities to make an impression on the client, the project, and the overall picture. I enjoy being on the front end of projects and see what it's suppose to start off as, and then having the opportunity to get out to the field and see where Operations takes it to. I also love building and developing relationships and it's just fun.
How has moving into a more virtual / work-from-home environment affected your daily routine at work?
It hasn't impacted it a ton but it has challenged the human interaction part. Before I could talk face-to-face with the estimating and support team and be able to show them things physically. Now I have to relay that information virtually and make sure it comes across in the same message and same clear learning intent. It's important to continue to foster an environment of learning and I'm trying to find the best ways to create those opportunities so they are still organic in a virtual world.
Where are you from originally?
I was born and raised in Charlotte. I only left for five years to go to college but have always been here.
How have you seen Charlotte change?
It's changed substantially. Growing up, my mom was actually on the construction project when the Panther's stadium was first built. The skyline has changed drastically. You have huge towers – the Ritz wasn't around – the Epicenter was in danger of not being built when I left for college. It's been breathtaking. It has been good and bad because I don't want to lose the historical value that the city has, being one of the older cities in North Carolina and the largest. It's cool to see that we are not lagging behind some of the other large, Metropolitan areas but at the same time I don't want us to forget who we are as a city and what built the city. There's definitely been a lot of change.
What do you like to do in your spare time?
Family is number one for me. Hanging out with the kids and keeping them entertained especially during these times where parks aren't open, I'm having to find different ways to keep them entertained. I also play disc golf and have a group that plays together every Sunday. We like to get out and have a competitive match for a goofy, weekly trophy. We like to poke the bear but it's all in good humor and good fun.
What is a fun fact that most people don't know about you?
Most people don't know that I'm an Eagle Scout. I think only 5% of Boy Scouts earn that award.
What do you like most about working at McFarland?
I enjoy the opportunity to be a part of so many unique and diverse projects. Not any one project is the same. There's elements of projects that are similiar but there's always something different. I also enjoy the collaborative environment. It's not like precon, construction, operations, marketing, business development are all separate – we are all intertwined and work hand-in-hand. That's huge because I've been a part of companies where that was the case and there was a clear division between departments. In that case, collaboration often felt forced. Collaboration is a part of our DNA as a company. You can accomplish so much greater things working as a team versus working individually.
[supsystic-slider id=15 position="center"]
---
Published: July 31, 2020
---