Meet Our McFarland Community: Mike – Project Manager
---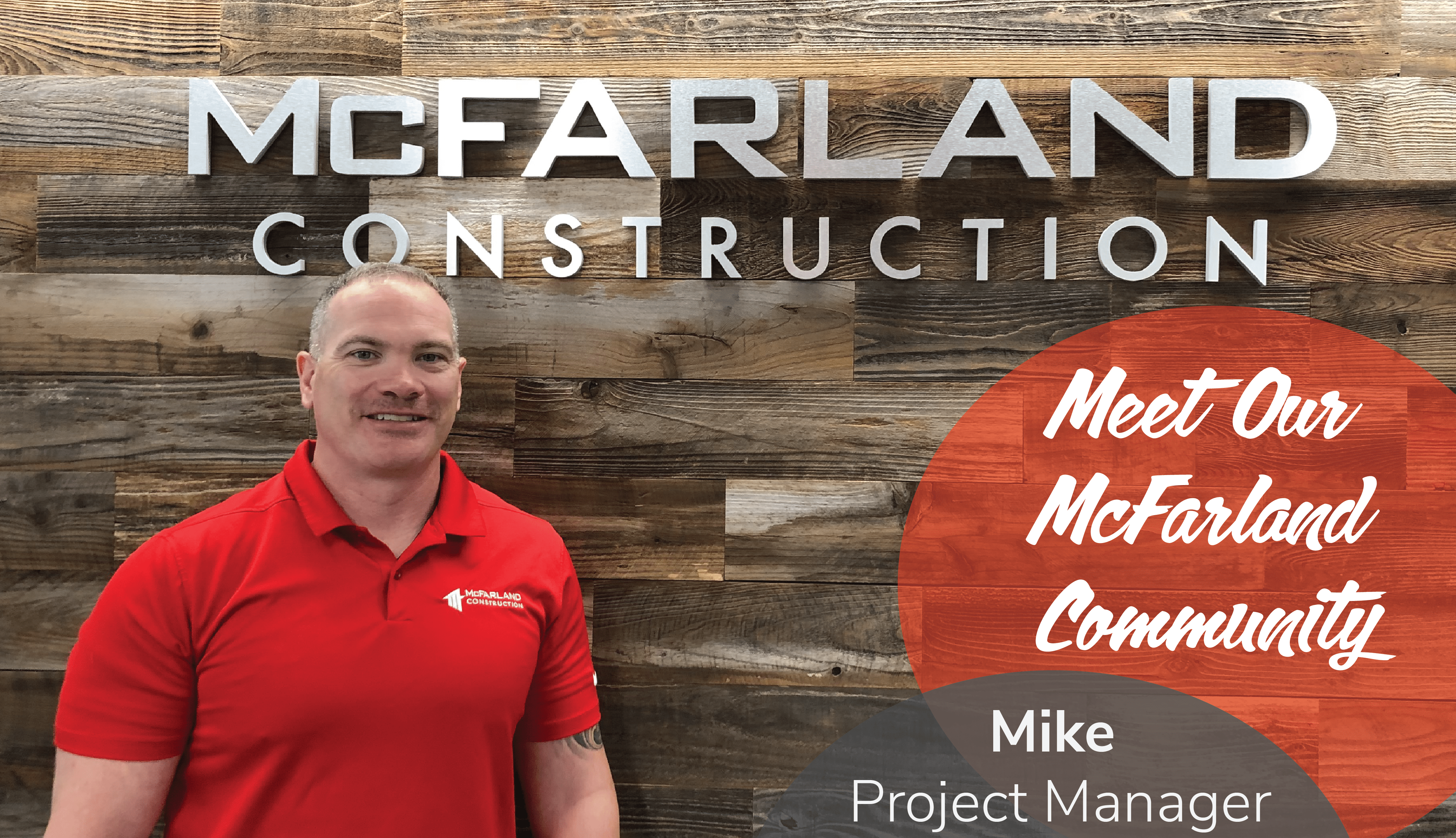 ---
At McFarland Construction, collaboration is one of our core values. We know that collaboration begins internally by building the right team and workplace culture. Our employees are the building blocks and lucky for us, they all have a great story to tell. Up next under our Employee Spotlight is Mike, one of our Project Managers. Originally from Washington, DC, Mike is a husband and a father, loves working out, and is a sports car fanatic. Learn more about Mike from our recent interview with him:
­­­­­­How long have you been in the construction industry?
Almost 24 years. I started attending trade school when I was in high school. I would go to my high school for the first half of the day and then train to be a plumber the other half.
What got you into construction?
I knew I wanted to learn a trade of some kind. It's been an interesting career path because I never saw myself as a Project Manager. I started out as a plumber's helper in DC. I was classmates with the daughter of the owner at my first job. One day he walked into the FAB shop when I was working and I asked if he could bring me into the office to get some managerial experience. My career in construction progressed from there.
What brought you to Charlotte?
My wife and I were ready for a change of pace and the South sounded like a great place for it. We also have friends that live in the area.
What do you like most about the industry?
I really enjoy creating and maintaining new relationships, and this is a great industry for that. I also like watching things being built and be a part of it. It's cool to be able to look at the Charlotte skyline and know that I helped create that.
What is one of your favorite projects you've ever worked on?
Definitely the Pentagon, both before and after the September 11th attacks. I was actually driving to a job site at the Pentagon the day of the attacks and saw that the Pentagon was on fire. The coolest thing about that job was watching everyone come together and rebuild the Pentagon in such a short amount of time. There was never a request that was too big or too small. Seeing people come together in a time like that was really something. I've never experienced anything like it, and I doubt I ever will again.
What do you like to do in your spare time?
Outside of work, I like to spend time with my family and my dogs. My daughter, Mia, is 12. We are usually doing something on the weekends, either camping, hiking, or go karting. Pretty much anything active. I also enjoy going to my gym.
What's something that most people don't know about you?
I played high school basketball with NBA All-Star Lonnie Baxter. We went to the same high school, and he went on to play at the University of Maryland and win the NCAA tournament.
We heard you had a thing for cars. Is this true?
Yes, I have always loved cars. The movie Smokey and the Bandit with Burt Reynolds got me interested in cars. I watched it as a kid and fell in love. I've always had sports cars and race cars. I just sold my Camaro and am already thinking about what my next car will be.
What do you like most about working at McFarland?
The camaraderie and the ability to express one's opinion and be listened to. Most companies don't give you that opportunity and are pretty set in their ways. We are more flexible which allows us to provide great service to our clients and our projects.
What do you enjoy most about your role?
Definitely having ownership of projects and being a representative for McFarland. McFarland as a whole is a great place to work because everybody has different skillsets and is willing to lend a hand when needed. The people aren't siloed.
---
Published: July 19, 2021
---