Employee Promotions: January 2023
---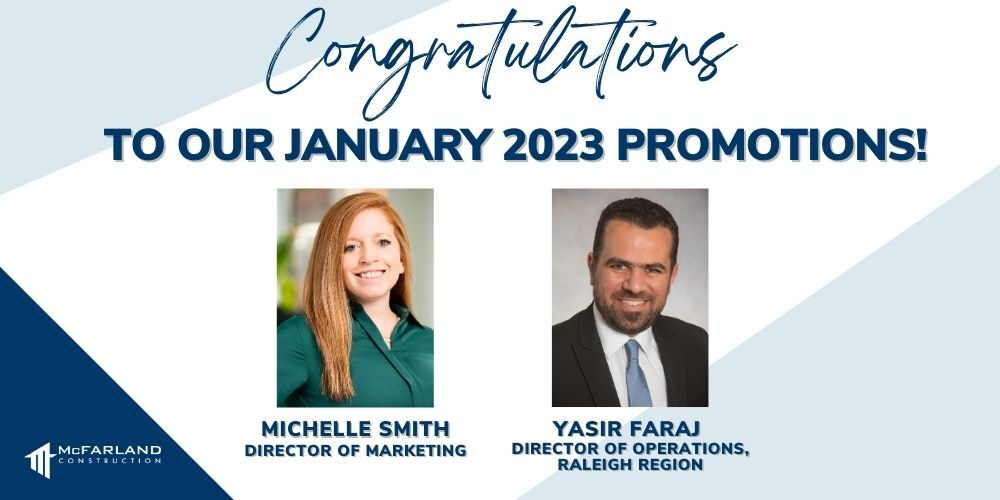 ---
---
DIRECTOR OF MARKETING
McFarland Construction is excited to announce that Michelle Smith has been promoted to Director of Marketing. Michelle is a passionate advocate for the McFarland brand and is dedicated to enhancing our marketing strategy to extend our presence throughout the Carolinas and the Southeast. Michelle has excellent creative instincts and works tirelessly to promote our core values of commitment, community, and collaboration. Since joining our team, Michelle has had a tremendous impact on our firm's success and has been instrumental in telling the McFarland story.
Michelle earned her M.S. in Marketing from the University of South Florida and her B.S. in Finance from the University of Florida. She is actively engaged in professional and community associations. She supports many non-profit organizations and oversees McFarland's community engagement initiatives. Michelle is also a member of the Society for Marketing Professionals and Crew Charlotte and serves on the communications committee for both organizations.
---
DIRECTOR OF OPERATIONS, RALEIGH REGION
McFarland Construction is pleased to announce that Yasir Faraj, MBA, PMP, has been promoted to Director of Operations over our Raleigh business unit, which serves a variety of long-term clients. Since 2021, Yasir has played a vital role in establishing our permanent presence in the Raleigh-Durham region. He continues to expand our client base and team resources in the area and is diligent in his efforts to serve our trusted partners. He truly represents the best of McFarland in his professionalism and expectations for high performance.
Yasir earned his M.B.A. in Project Management from Fayetteville State University and his B.S. in Environmental Engineering from Al-Mustansiriyah University. With over 11 years of construction experience, Yasir is passionate about collaborating with teams to deliver high-quality projects to our clients and stakeholders.
---
Published: January 25, 2023
---