Meet Our McFarland Community: Cindy – Executive Assistant | Loving Mom & Gardening Hobbyist
---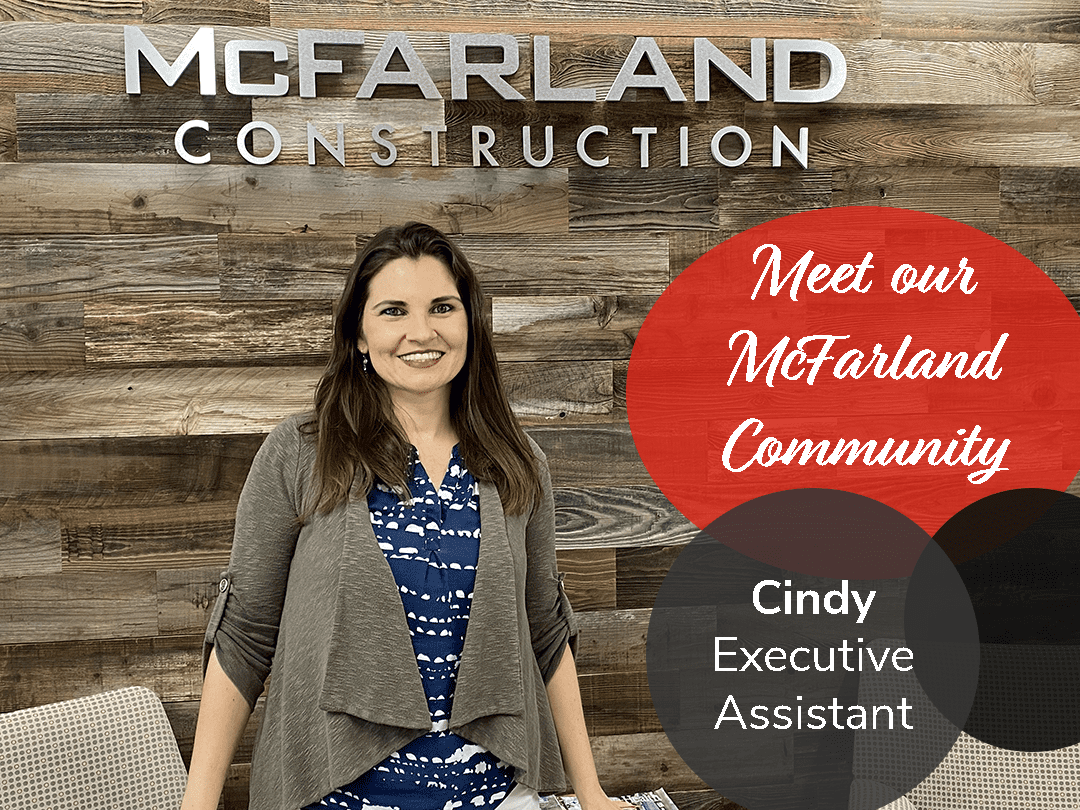 ---
At McFarland Construction, collaboration is one of our core values. We know that collaboration begins internally by building the right team and workplace culture. Our employees are the building blocks and lucky for us, they all have a great story to tell. Each month, we'll introduce you to someone from our McFarland Community. This month we're highlighting Cindy, Executive Assistant and right hand to our President, Tino. She is a loving mom of two, an avid gardener, and DIY'er. Fun Fact – You may catch her jamming out to Metallica when she's not working and watching them live with her son is high up on her bucket list. Learn more about Cindy from our recent interview with her:
How many years experience do you have as an Executive Assistant / Administrative Professional?
My first role as an executive assistant was in 2007 so about 13 years.
What do you enjoy most about your position?
I love supporting Tino, giving that direct support and being his right-hand. I love numbers, reporting, and finances. I really like working with Tino. It's always nice when you have someone you can look up to and that you can learn from, not only professionally but also personally.
What do you like about being in the Construction industry?
I love renovations, restorations and DIY's personally so I think being in the construction industry is a good fit for me. I love the fact that we are always busy. The construction industry is always busy, improving, and growing.
Can you describe a typical day for you?
I come to the office very early, before 7:00 am. I always have more in my hands than I can fulfill in one day. I work on the HR side with fulfilling employee requests, payroll, monthly & quarterly financial reports, expense reports, etc. I have a cycle every week that I follow through, some tasks are monthly. I keep up with this cycle to meet my deadlines. Between that, answering emails, and providing support to Tino, my day's are always busy.
What motivates you?
Challenge. Learning new things. As much as we always love to be in the routine, new things and new projects really excite me.
How long have you lived in the Charlotte area?
One and a half years
Where did you live before Charlotte and where are you from originally?
I moved to Charlotte from Florida and am originally from Venezuela. I've been in the U.S. for 17 years on September 4th.
What do you like most about the Charlotte area?
I love it. The reason we moved here was the weather and running away from the heat. I love that we have four seasons. We moved here without ever being here before. We rented a little condo online and decided to pack and move. It was quite an adventure. We love the weather, the scenery, the outdoors, the topography. It's the perfect happy medium on the east coast. I love the people, they are very hospitable. I also love the history of it. It is very rich in history. Charlotte is just a beautiful city.
Why did you move from Venezuela?
At that time I was 26 and my son was 8. I came to visit when I was 15 years old. Ever since I came here the first time, I was determined to move to this country. I saw all the opportunities and the fact that I had my son so young, I wanted big opportunities for him. So I think that was an extra push to be in a country where I have more opportunities to make a way of living and a better quality of life. A huge thing we take for granted is safety in this Country. Even though there are still criminals, violence, and theft, it can't even come close to how we lived in South America. Safety was a huge pursuit for me and creating a better future for me and my son.
What do you like to do in your spare time?
I love gardening. It's a new hobby I discovered a few years ago. I love yard projects, not only gardening but bigger yard projects too. I really love spending time with my family, either watching a movie or making a meal. I love DIY projects, I'm always looking for things I can fix and get creative with. Lately, I've been enjoying cooking. You have to do it everyday being a mom but now that I took on a vegan lifestyle, I have discovered new recipes. I like discovering new recipes that are healthier and that I can try with my family for the first time and see that they love it. It's a lot of work but it's rewarding.
What's something that most people don't know about you?
I love Metallica. Going to a Metallica concert with my older son is on my bucket list. That's something most people would never think because I'm always listening to Classical music and Christian music.
What do you like most about working at McFarland?
We're a small company and it feels like a family. I like our culture, we're all in tune, and we're all humble. I like that I can be me with everybody at all times. I love that we all have a voice. Your vote counts and your ideas are always heard. I like to invest in a company that is growing and well-founded. I love that as the time passes, the relationships become stronger. Some of us are doing this book review that will not only help us learn the technicalities but to get to know each other better. The more you know about my weaknesses, the more compassion you have and vice versa. Knowing if there's a certain pattern that might stress one of us out or knowing how people like to start their day. We're creating synergy where we know each other's strengths and weaknesses and we can work around that and help each other and the company grow.
---
Published: August 31, 2020
---