Ben Wilhelm Promoted to President / COO of McFarland Construction
---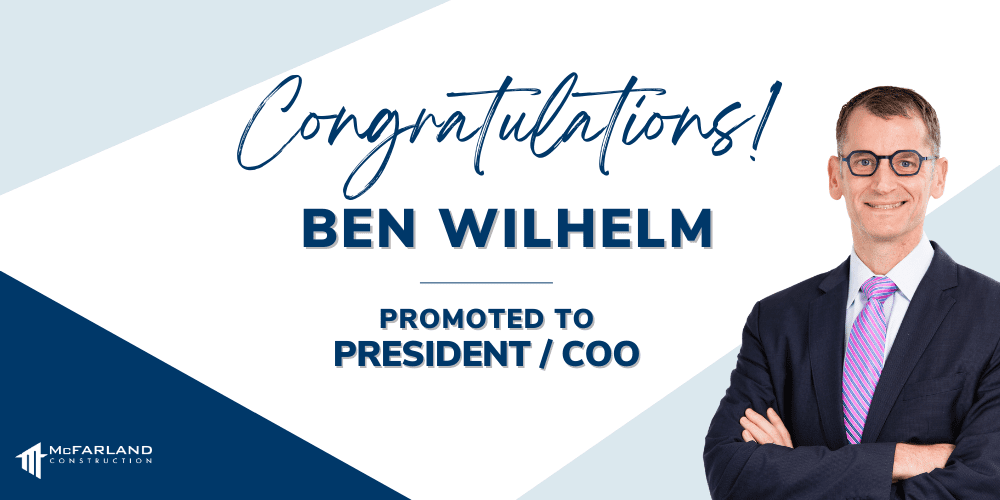 ---
McFarland Construction is excited to announce the promotion of Ben Wilhelm to President / COO. Over the past several years, Ben has been instrumental in the growth and development of McFarland. Ben's dedication to service excellence and his commitment to enhancing McFarland's service offerings by investing in our people, developing processes, and driving accountability has created value and growth opportunities for the McFarland team as a whole.
Ben is a proven leader with a natural inclination to support, facilitate, and lead teams in a forward-thinking manner. As President / COO, Ben will continue to contribute to the development and implementation of the business strategy that will lead McFarland into future continued growth.
Ben has over 30 years of experience in commercial construction with strong expertise in operations, client management, P&L, organization development, strategy, and collaborative negotiation. He earned his Doctorate in Business Administration from UNC Charlotte, MS in Organization Development from Queens University of Charlotte, and MBA and BS from the University of Indianapolis. Ben has also served on numerous non-profit and private company boards and is an adjunct faculty member in the McColl School of Business at Queens University of Charlotte.
Please join us in congratulating Ben on his well-deserved promotion to President / COO of McFarland Construction.
---
Published: January 19, 2023
---